Win a Bentley in the Unique 1xBet World Cup Promotion!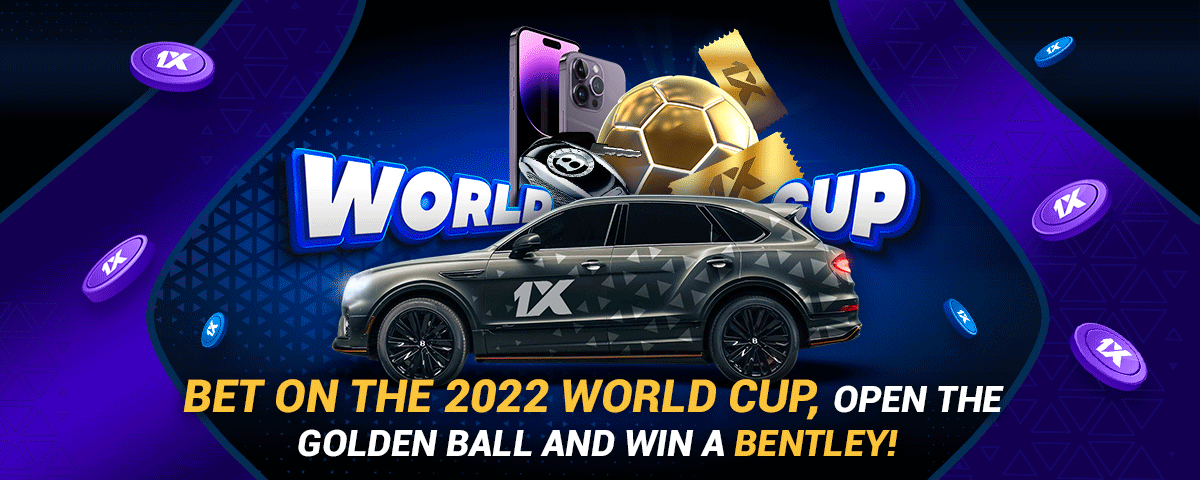 The 2022 World Cup held in Qatar is already a unique event that was anticipated by fans all around the globe. Now that the action has started and we already witnessed some huge upsets, it's time to keep cheering for our favorite teams and hope they reach the knock-out phase.
A world-renowned bookmaker like 1xBet couldn't miss such a huge opportunity to give football fans all the means needed to make the most of the World cup. So, in its regular fashion, the sportsbook prepared for this international tournament with a fantastic World Cup promotion for football fans. The main prize is an outstanding 2022 Bentley Bentayga Speed luxury car, while over 2,500 other prizes are up for grabs by players that take part.

Participating in 1xBet's World Cup promotion is easy and you just have to follow these steps:
Create an account with 1xBet (or log in if you're already a member)
Tick the box agreeing to take part in bonus promotions from My Account application.
Support your favoruites at the World Cup with a bet of at least $2 and 1.6 odds or higher to collect promotional tickets.
Use the collected tickets on the promo page to open the Ballon d'Or and discover prizes
Besides winning from the placed bets and supporting their favorites at such a crucial tournament, players participating in this promotion also get a guaranteed gift. Each time a Ballon d'Or is opened, one of the following prizes will be granted to players:
Up to 5000 bonus points for more bets and winning opportunities;
A $10 free bet;
One cash prize between $10 and $100;
Between 1 and 10 tickets for the final draw.
What are the available prizes in the draw? The final value depends on the players' level. By collecting more tickets, the prizes get better and there are so many options to choose from. The prize pool for this promo includes gadgets, smartphones, laptops, or tablets from Apple and Samsung. And, of course, the 2022 Bentley Bentayga Speed supercar.
The thrill of this 1xBet World Cup promotion continues because everyone can take part and have a chance at the prizes. You can be one of the thousands of winners simply by participating and believing in your chance. So, make the most of the World Cup and win great prizes with 1xBet!
Relevant news