1xBet is Offering Massive Bonuses For Winning Accumulator Bets!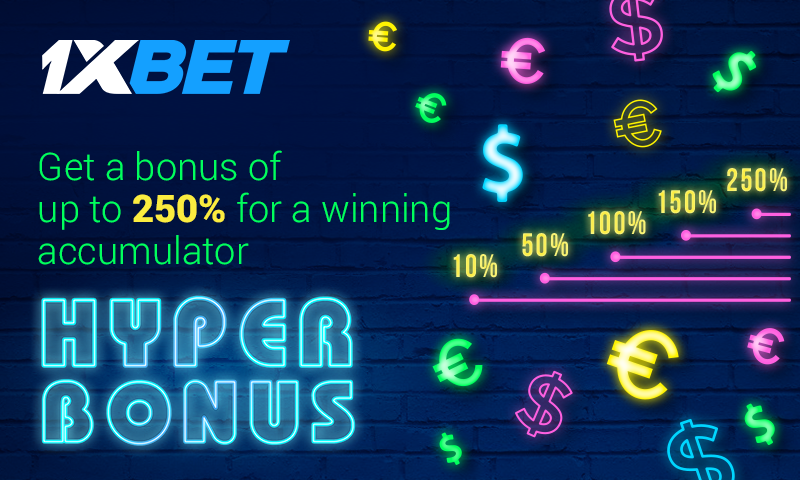 1xBet is Offering Massive Bonuses For Winning Accumulator Bets!
The keys to successful sports betting are excellent odds and outstanding bonuses. Players seeking that perfect combination of super odds and beneficial offers will find both at 1xBet. The most recent promotion from the innovative bookmaker – Hyper Bonus – gives you a bonus of up to 250% for placing accumulator bets!
How Does It Work?
You need to be a 1xBet member to qualify for the promotion; therefore, if you aren't a member yet, it's the perfect time to register now, so you'll enjoy this promo and many other perks and rewards. When you sign up, enter your full name, mobile number (must be activated), email, physical address, including your country, in the designated fields. Furthermore, ensure you agree to take part in the bonus offers under My Account.
You can then go to the promotion page and confirm your participation in the promo offer by clicking on Take Part. It's as straightforward as that, then place your accumulator bets on at least four selections with minimum odds of 1.2. You will get a chance to enjoy all the extra perks and rewards of the Hyper Bonus promotion.
How Much Bonus Will I Receive?
The bonus value increases with the number of selections you make with your accumulator bets. Four picks within your winning accumulator bet give you a bonus of 5%; however, adding ten picks boosts the bonus to 40%! Every additional selection you add to your bet slip increases the bonus percentage, up to a maximum of 250% for a single accumulator bet with 25 lines added.
1xBet provides an exceptional betting experience for you to enjoy, adding a 250% bonus to your accumulator bets to make it even better! So create your 1xBet account and start winning immediately!
Relevant news