Clash of Counter-Strike titans Markeloff vs S1mple presented by NAVI and 1xBet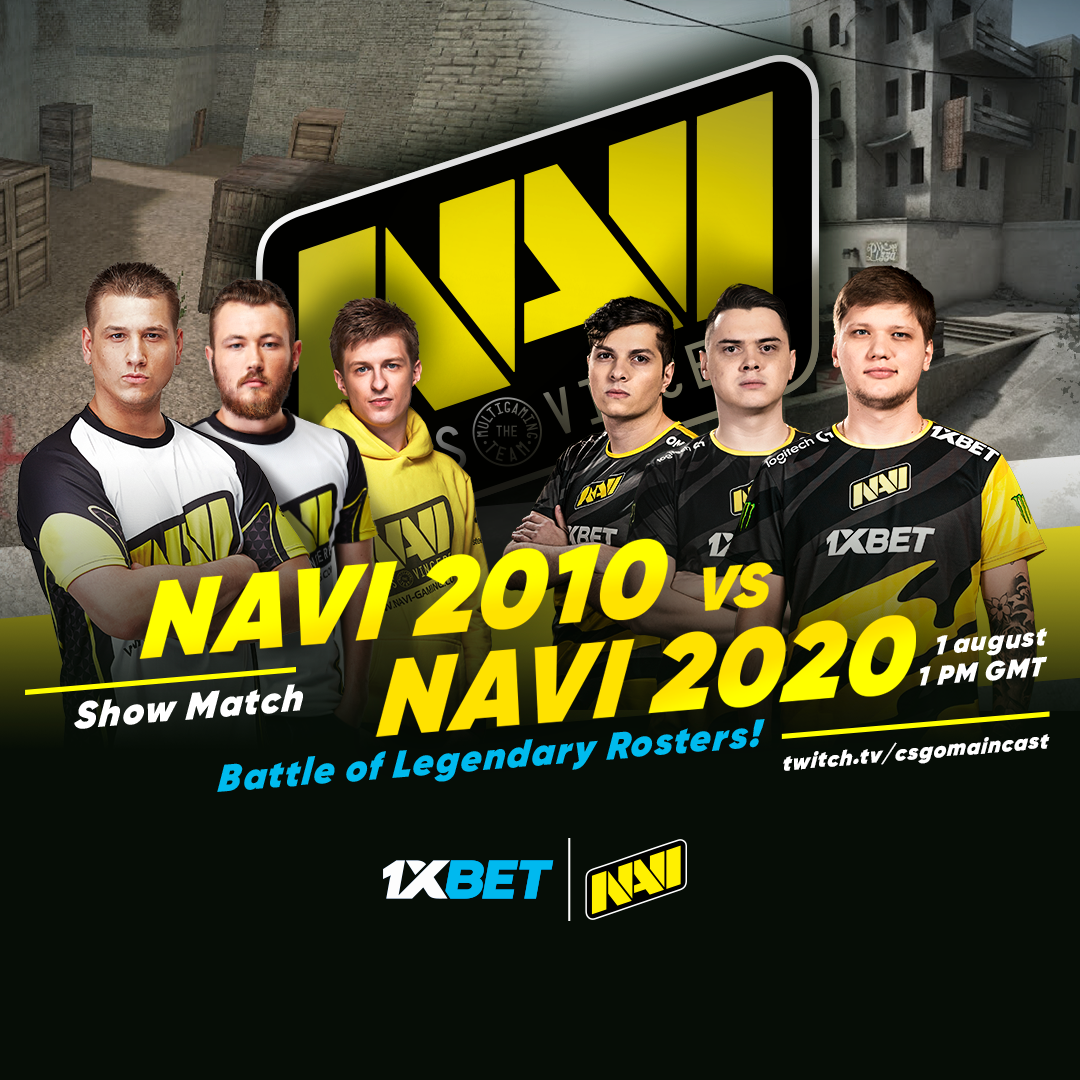 Natus Vincere is synonymous with esports and one of the oldest, consistent and successful esports organisations in the world. Over the last decade, Natus Vincere players have graduated from practicing in cybercafes to winning numerous world titles. The legendary CS 1.6 lineup began its domination of the world stage with Markeloff, Ceh9 and others. The phenomenal legacy continues, and fans are still going crazy over NAVI CS:GO players.
Fans have been debating which era had the best team for years. Now NAVI, partnered by 1хBet, will finally settle the long-running dispute by bringing the legendary lineups together for the ultimate clash.
Which one will claim victory? Will it be competitive gaming pioneers who made a name for themselves as the undisputed CS icons? Or will fresh, younger talents claim victory over a more experienced team?
The ultimate clash of giants is coming in summer! It's NAVI 2010 vs NAVI 2020 — esports at its very best! The idea was hatched on an Arsenii Ceh9 Trynozhenko live stream, where former CS 1.6 NAVI star was joined later by Kirill Boombl4 Mikhailov, captain of the current NAVI CS:GO team.
Fans have ceased on the opportunity of a face-off between old and new NAVI players, where they can truly test their skills in a high-profile showdown. 1xBet has been instrumental in bringing this eagerly anticipated spectacle to life on the international stage.
The battle takes place on August 1st, and the match will be broadcast by Maincast studio on their corresponding channels:
https://www.twitch.tv/csgomc_ru
https://www.twitch.tv/csgomaincast
The match will be broadcast in English and Russian, since NAVI has an international fan-base.
1xBet has also prepared a few extra surprises for dedicated Natus Vincere fans. More details will be announced shortly.
About 1xBet
1xBet (est. 2007) is one of the most rapidly growing betting brands in the world. The company offers over 2000 markets across 25 esports titles, including Dota 2, CS:GO, LoL and other games.
1xBet is the title sponsor of several esports organizations, such as NAVI, Cascade Esports and HellRaisers Esports.
About Maincast
Maincast is one of the most recognised esports production companies in Europe, creating content and operating live tournament broadcasts of Dota 2, Counter-Strike: Global Offensive, FIFA, Overwatch and other competitive video games. Maincast is an official ESL partner in Eastern Europe and holds exclusive broadcasting rights of over 70% of premium Dota 2 and CS:GO events.
Relevant news