1xBet introduces the 1xGames Vitamin Promo with Bonuses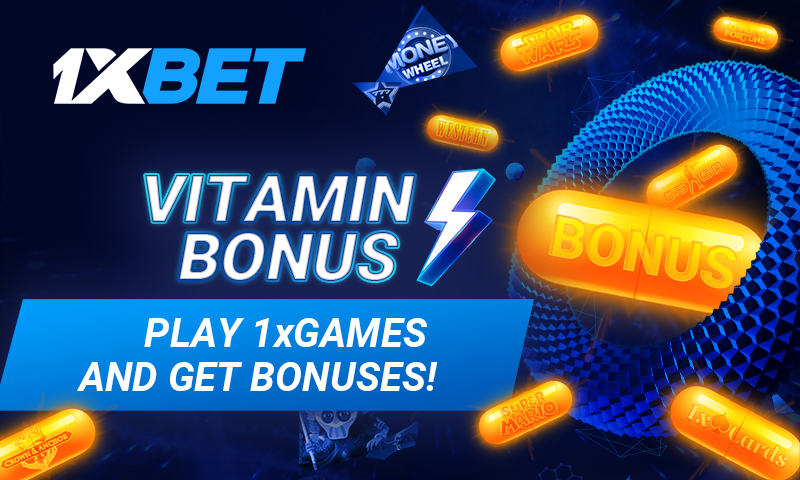 1xBet has launched a fantastic new promotion with a pack of over 100 unique 1xGames. Apart from the exclusive opportunity to play high-quality games you won't find anywhere else, you also have the unique chance to win no less than four kinds of rewards. The Vitamin Bonus, as it is called, is the perfect way to boost your winnings while enjoying the exceptional gameplay.
If you want to take part in 1xBet's exceptional promotion, all it takes is registering on the site of you haven't already signed up. Setting up an account at 1xBet is a straightforward process that only lasts a couple of minutes. Once you become a member at 1xBet, you can access the Vitamin Bonus Promo in seconds. You will have numerous opportunities to play and win bonuses and great rewards.
How to Claim your Vitamin Bonus 
Log into your account or sign up
Choose opt-in to take part in the bonus offers
Play any of the participating 1xGames for 14 out of the last 30 days
Place at least five bets of any value, within the 24 hours before you claim the bonus
Go to the promotions page and click the Vitamin button to receive the bonus reward
You are eligible for the 1xBet Vitamin Bonus promotion as soon as you have followed the steps mentioned above. You will then randomly gain a bonus to boost your chances of winning from the list hereunder:
Free bets for all the 1xGames
A 50% refund if you lose while playing the games
Spins on the Lucky Wheel
Double your payout prizes with 1xGames
The Vitamin Bonus promotion is there for everyone to enjoy until the 15th of May. You may only claim one bonus per day, so make sure it counts, and you take advantage of the offer. 1xBet provides all members with unique games to enjoy, enhanced by excellent bonuses that can make your winnings outstanding! Register at 1xBet or log in now to enjoy the pleasures of playing 1xGames and winning!
Relevant news